Welcome Birman friends and visitors!
New pictures from all kittens
klick here
.
Freddo and Limoncella, 7 month old, and Toni, Zucotto and Cioccollato 4.5 month are still looking for their purrever home.
Retiree Quarli
is also looking for a new loving home, preferable with her grandson Freddo together.
Limoncella blue point and Semifreddo blue lynx are 7 month old and Freddo is already neutered. Freddo is an independent little boy who wants to snuggle with his human and grandma Quarli. If somebody is interested in a retired Birman and a kitten together, Quarli and Freddo would be the perfect choice.
Limoncella is a lovebug you barely can't find. She also likes to answer you and has a very loud and vibrating purring engine.
Julchens and Jubelitos babies are 4.5 month old and super snuggler and player on their own schedule. Cioccolatto, seal lynx, Zucotto and Pannetone red lynx, both are already neutered.
My Website is one of many opportunities for you to learn about my cattery and the wonderful Birman breed.

My small Birman cattery is Tica registered since 2004 and located in Pickens, SC on the foothills of the Blue Smoky Mountains. Our (my husband calls himself the entertainer, and I am the breeder) breeding journey started in 2000 in Munich/Germany where the cattery was registered with one of the cat associations there.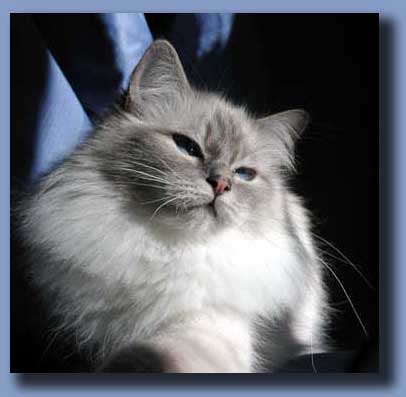 Our kittens are raised inmidst all the furry and two-legged family members, with lots of love and attention. We are dedicated to produce healthy kittens with happy personalities.
As soon as cat DNA tests were available, we tested all our breeders for PKD (Polycystic kidney disease). Today, 20 years later, we test all our breeders with Wisdom Panel DNA test, which reports for over 40 genetic diseases, 20+ traits and blood type. All our Birman Queens and Kings are clear of any testable known genetic disease.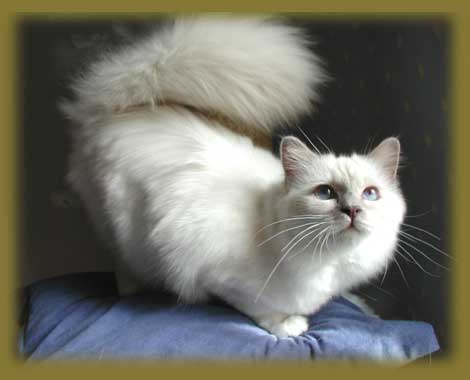 As a registered Birman breeder, I have experienced many diseases since my first cat came into my family and in my time as a cat breeder. I am a big believer in natural holistic treatments of any disease in animals and people.
We specialize in the colors blue and lilac, with and without lynx/tabby. In 2021 we added a new familiy member in seal-tortie point and therefore we are extending our color comfort zone with more colors in our future breeding program. With Julchen all colors are possible.
We invite you to explore this site to learn more about us and the wonderful Birman breed.