Welcome Birman friends and visitors!
Time flies ! Julchen's and Jubelito's babies are already 3 weeks old. The 3 boys and 1 girl are doing great. We have 2 red/cream (lynx?) boys, 1 seal (lynx) boy I think, and 1 dark girl (seal or chocolate, she will stay).
In the first week in June the now 14 week old kittens are meeting with the Vet to get a health check. If possible the boys will be neutered soon thereafter. The kittens are then ready to leave to their forever home, which they haven't found yet. Serious inquiries are very welcome. All kittens are still available except Biscotti (interest shown but nothing set in stone) and Catucinni (my husbands darling will probably stay)
Kitten pictures from both litters
klick here
.
My Website is one of many opportunities for you to learn about my cattery and the wonderful Birman breed.

My small Birman cattery is Tica registered since 2004 and located in Pickens, SC on the foothills of the Blue Smoky Mountains. Our (my husband calls himself the entertainer, and I am the breeder) breeding journey started in 2000 in Munich/Germany where the cattery was registered with one of the cat associations there.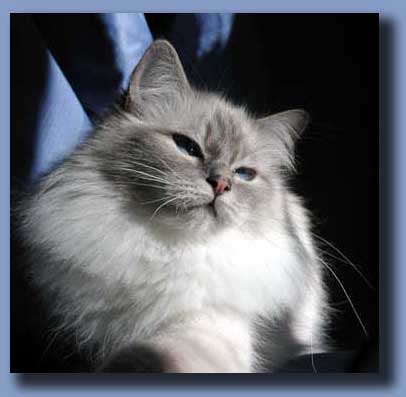 Our kittens are raised inmidst all the furry and two-legged family members, with lots of love and attention. We are dedicated to produce healthy kittens with happy personalities.
As soon as cat DNA tests were available, we tested all our breeders for PKD (Polycystic kidney disease). Today, 20 years later, we test all our breeders with Wisdom Panel DNA test, which reports for over 40 genetic diseases, 20+ traits and blood type. All our Birman Queens and Kings are clear of any testable known genetic disease.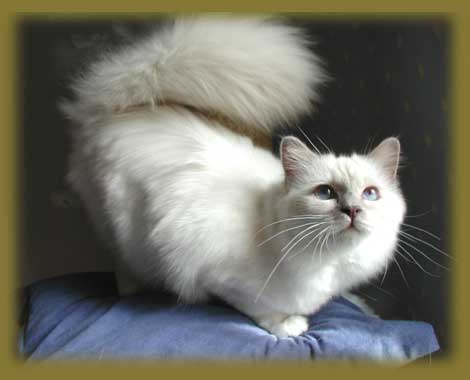 As a registered Birman breeder, I have experienced many diseases since my first cat came into my family and in my time as a cat breeder. I am a big believer in natural holistic treatments of any disease in animals and people.
We specialize in the colors blue and lilac, with and without lynx/tabby. In 2021 we added a new familiy member in seal-tortie point and therefore we are extending our color comfort zone with more colors in our future breeding program. With Julchen all colors are possible.
We invite you to explore this site to learn more about us and the wonderful Birman breed.